I am notoriously hard to travel with. I am allergic to everything (plants, any pet larger than a small bird), and I get nauseous from sunlight and from motion. I also get vertigo.
I have chronic fatigue so need to rest a lot, and to top it all off – I have many complicated, severe food allergies that make eating out or on the go impossible, and make renting a hotel a nightmare. I need my own kitchen.
So I've always had this little fantasy of having one of those upgraded camper vans like you see on Instagram. We could drive up to the north of Spain from Madrid while doing these little detours. I wouldn't have to pack an epic icebox in the car – I could just make something on the stove. We can rest during the day in our own bed and stop at nightfall instead of trying to make our destination before dark.
(This blog post is more like a bookmark for future-me to return to. )
Resources for camper van rentals in Spain
Here are the sites I've found so far. I'll update this post if and when I have experience with any of them.
The only thing is, as I look at the interiors of these campers – basically designed only to replace a tent in some cases – I have to ask myself: how did we romanticise van life so much?
I know the lockdown made being on the open road, away from people and quarantine rules seem ideal.
But these are tiny, not exactly impenetrable spaces if you're living in one as a single woman. Showers and toilets are not included in smaller, more affordable models. The ones with stoves use gas to power them, which is an indoor air pollutant of huge magnitudes and has long-term health impacts that we're only just starting to see very clearly. Everything from dementia to heart attacks, cancer and strokes originate from those tiny, pm 2.5 particles that you're inhaling, both from the indoor gas stove and from the vehicle exhaust and braking particles while on the road.
And people are saying online this is how they save money? Essentially by electing to become legally homeless and hoping that pans out before any long-term health damage is incurred?
I know things in Europe are very different to the USA, so perhaps I should "stay in my lane": we have robust employee rights and affordable access to healthcare. In Spain, homeschooling – which seems to go hand in hand with vanlifing in the USA- is also illegal. Possibly because Spain is still emerging from the shadow of Franco-times (every year, clusters of Franco supporters march around on Spain's national day), and homeschooling is the go-to for zealots of every walk of life to indoctrinate their kids.
But I do worry about what vanlifing says about the atomisation of our society and the breakdown of the social contract as a whole. Because we only chose from our list of available options, and I worry that the options are too few for some folk.
Customised camper vans to rent
Nevertheless, I can't do much about how another country is structured beyond sending good vibes.
For people with the choices, I can only point out that the gas stove indoor air quality issue is not exactly cancelled out because the RV is a beautiful forest. You'd want to cook with the RV doors wide open and let that air out for a long time before calling it a night. Rain or shine.
And I still like the idea of doing a cross-country trip across Spain… just in a cuter van?
So I found two upgraded vans for rent in the Madrid area:
Álvaro's Converted van: wood panel interiors, smart home features, a shower with a digital themostat reader on the handle, and a flat screen tv on an overhead arm, make this a movable Airbnb. €150 a night.
Mario's converted van : behold. and this is my less favourite option!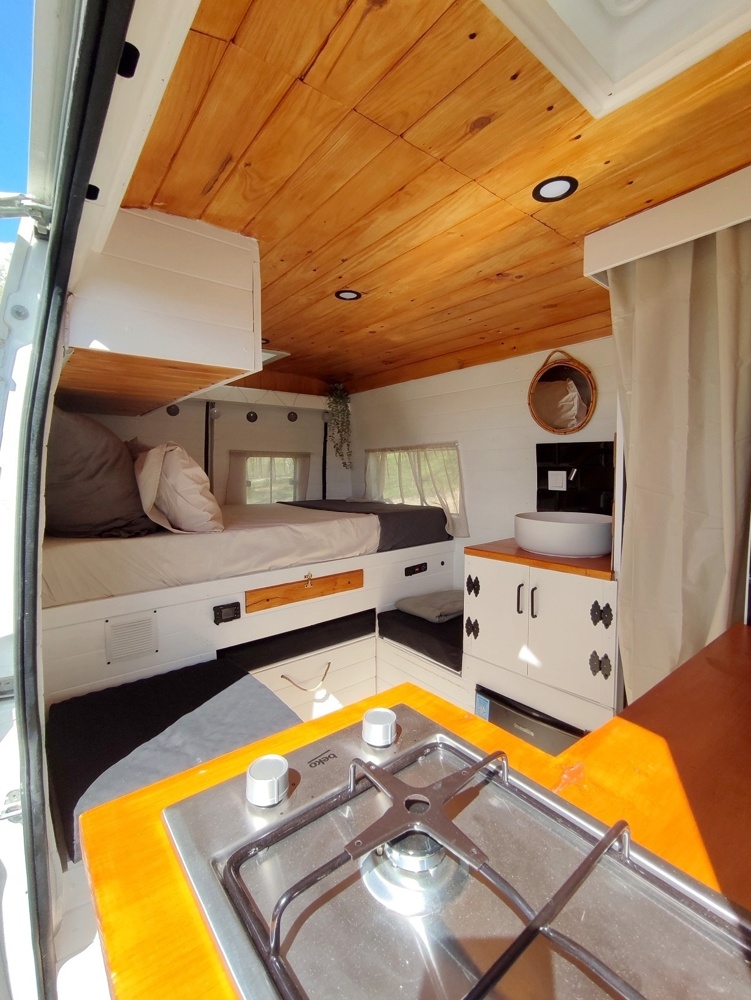 My first dorm wasn't as cute, or well-organised for storage. I'll say that.
I'm still not sure if the camper van route is for us in reality. Our kid is too restless and the sun is way too intense in summer to just be outside all day. Even now, the UV index is high until 6pm.
But perhaps one spring in the future, we could do a road trip that isn't about making it home before dark, and take photos of those sunflower fields and ruins I see on the way from Madrid to Galicia twice a year.
credits: all images in this post are from unsplash.